We use only the best hardwoods from the Charlotte area. As a Charlotte area firewood supplier we are very lucky to be in an area with an abundance of hardwoods.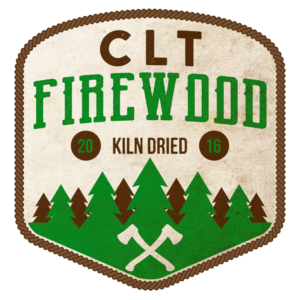 Types of wood used:
Red Oak

White Oak
Maple
Poplar
Ash
Why Mark's Firewood/CLT Firewood? 
Our premium kiln dried firewood we now offer is cooked for 35 hours at over 200 degrees. This means that our firewood is perfectly seasoned and bug free making it easy to light and ensuring you get a great fire every time!.
We commonly see people throwing the wood in the truck which leads to inconsistent amounts of firewood in each truckload. When we deliver our firewood we stack the wood in the truck trailer so every customer gets the same amount.
Purchase Options
We accept cash and checks.
Half Cord / Face Cord -$460- Makes a stack of firewood 4ft high and 8ft long. It fits perfectly in a standard 8ft long firewood rack and is enough for a few fires a month throughout the winter.
Extra Services/Products
Stacking-$50- We would be more than happy to stack your firewood for you if you would like. The face cord stacking fee is $50.
Firewood Rack- Holds Half Cord / Face Cord-$210- To our customers that want a place to store their firewood we offer a quality black metal firewood rack. We will bring the rack with us on your delivery, put it together for you, and place it wherever you would like to keep your firewood stored. Our racks come with a black cover to keep your wood out of the elements and ready to burn!